We Are a Video Production Company...
That supplies 1080 High Definition Stock Footage of Italy, Greece, Egypt, the UK, and France to television networks and motion picture studios around the world for use in documentaries, commercials, and movies. Our footage has been shown on ABC, CBS, NBC, A&E, the History Channel, the Biography Channel, National Geographic Channel, the Canadian Broadcasting Company, the BBC, Hulu, and Netflix, plus other networks around the world.
We are constantly updating our Video Production Equipment and subsequently, have gently used video cameras, tripods, fluid heads, Zoom Controls, microphones, wireless mikes, and other miscellaneous video production equipment for sale. If you are interested in any of the equipment listed below, please contact us and we will be happy to answer your questions and send additional information along with photos showing the exact condition of the item.
Gently Used Equipment for Sale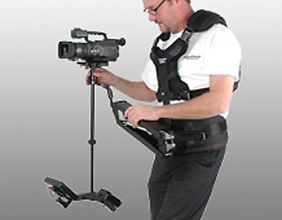 Varizoom FlowCam GT for Sale $1,199.00 USD
We have a gently used Varizoom FlowCam GT - the Hollywood Lite Series - camera stabilizer. This includes the vest, the arm, the sled with monitor, 2 PBA-50 Batteries with Charger, and padded suitcase.
Contact us for additional information and photographs of this item.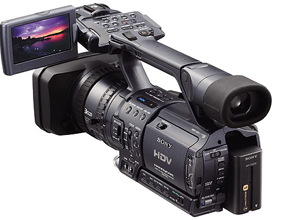 Sony HDR-FX1 1080 HD Video Camera for Sale $1,499.00 USD
NTSC System - The Sony HDR-FX1, introduced in late 2004, was the first HDV 3 CCD camcorder to support 1080i (1440 X 1080 resolution with 4:2:0 color sampling). The HDR-FX1 includes three 1/3-inch 16:9 1.12 Megapixel gross CCDs. Each CCD measures 960 x 1080 pixels. It includes a 12x optical Carl Zeiss Vario-Sonnar T* lens, a 3.5-inch LCD screen, a zoom ring, focus ring, and an iris / aperture ring. With the introduction of Sony's HDR-FX1, the first HDV 1080i camcorder and the benchmark in video technology available for consumers and prosumers alike, users now have the capability to record and play back high definition video. We've used this HD Video Camera to film and license its video to almost all of the major TV networks in the US plus the BBC.
Items Included:
Sony HDR-FX1 HDV Hight Definition 1080i Video Camcorder
Carl Zeiss Vario-Sonnar T* Zoom 4.5-54mm f/1.6-2.8 Lens, 12x (Optical)
Sony AC-L15 A/C Adapter
Sony NP-F570 Li-ion Rechargeable Battery Pack
Sony RMT-831 Wireless Remote Controller
Shoe Adapter
Component Video Cable
Audio/Video Cable
Cleaning Cassette
Lens Hood
Eye Cup
Instruction Manual
Contact us for additional information and photographs of this item.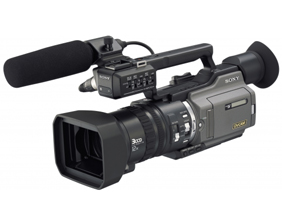 Sony DSR-PD150 SD Video Camera for Sale $999.00
NTSC System - The DSR-PD150 provides high quality acquisition in the DVCAM component digital format, as well as in DV, allowing up to forty minutes recording on one tape Mini DVCAM tape or over a full hour in the DV mode. It is suited for Event Videography and Video Journalist applications. This compact camcorder features three newly developed 1/3 inch 380K pixel CCDs that allow two scanning modes: 480 progressive (for still) or interlaced (for video). These new CCDs also provide high quality acquisition with increased resolution and sensitivity at reduced noise and vertical smear.The DSR-PD150 also features complete Professional Audio functions with two built-in XLR inputs. It features a built-in slot for a flash memory card or MemoryStick for still image storage. Up to 988 JPEG pictures can be stored in one 64 MB MemoryStick. The stored images can be mixed or keyed to the live image allowing logo insertion and/or mix effects. The built-in electronic zoom lens features Autofocus and SuperSteadyShot with a high MTF 12X high MTF quality optical lens with manual Zoom, Focus and Iris control. A high resolution (500 lines) B&W viewfinder and a color swing out bright color LCD panel are included to make shooting a breeze.
Items Included:
Sony DSR-PD150 3CCD MiniDV DVCAM Professional Camcorder
A/C Adaptor
Li-Ion Reachageable Battery
Microphone
Windscreen
Eye Cup
Contact us for additional information and photographs of this item.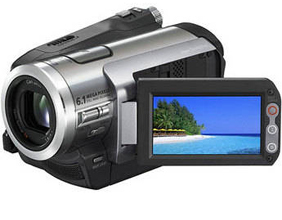 Sony HDR-HC7 1080i HDV Camcorder for Sale $499.00
NTSC System - Sony's HDR-HC7 at just under a pound and a half, has tons of features. First, it has genuine 1080i resolution, so you shoot in real HDTV. Second, it uses HDV, which brings the resolution of HD to a tape the size of a Mini DV cartridge. Menu options are easy to choose, thanks to the 2.7" widescreen LCD SwivelScreen monitor.
This 3.2 megapixel CMOS processes faster than a CCD for richer color and better detail. The Carl Zeiss Vario-Sonnar T lens also adds color and detail, plus reduces glare with its special T coating.
As impressive as the HDR-HC7 is as a camcorder, it gets even better as a 6 megapixel digital still camera. Store images on Memory Stick DUO Pro media and use the slot on the camera to view them. You can even shoot HD video and take a 4.6 megapixel still at the same time. Connect to a PC through USB or i.LINK to edit or share video.
Items Included:
Sony HDR-HC7
Sony A/C Adapter
Li-Ion Rechargeable Battery Pack
Contact us for additional information and photographs of this item.